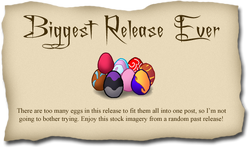 April Fool's Day
... the first time the users got pranked on this specific date was in 2009. It was a while after this until the event became an annual tradition, and has since provided the community with a fun holiday. New dragons or variations of dragons have been released on this holiday, as have fake releases (the most common recurring theme).
April Fool's Day Pranks
Edit
Subcategories
This category has the following 3 subcategories, out of 3 total.
Pages in category "April Fool's Day"
The following 6 pages are in this category, out of 6 total.
Ad blocker interference detected!
Wikia is a free-to-use site that makes money from advertising. We have a modified experience for viewers using ad blockers

Wikia is not accessible if you've made further modifications. Remove the custom ad blocker rule(s) and the page will load as expected.