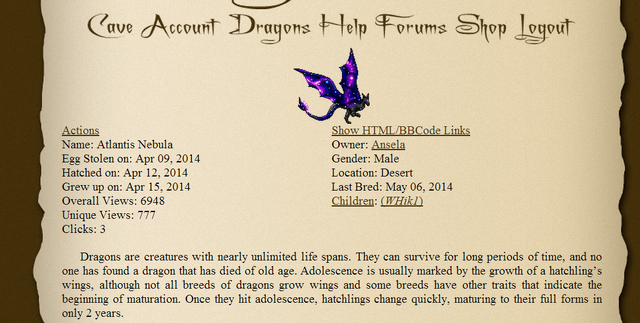 Description
Edit
When a dragon is clicked on, the person who clicks on it views that dragon's statistics. Statistics are the info about your dragon.
Stat is short for statistics. Examples about dragon statistics:
The link to your dragon's lineage.
The link to your dragon's parents and children. (Possible)
The time your dragon's egg was stolen/laid, hatched, and grew up.
The location your dragon was found at.
Your dragon's gender (Male or female, or unknown).
The option to show the HTTP/BBcode links of your dragon.
And everything else you can see in the picture.
File history
Click on a date/time to view the file as it appeared at that time.
Ad blocker interference detected!
Wikia is a free-to-use site that makes money from advertising. We have a modified experience for viewers using ad blockers

Wikia is not accessible if you've made further modifications. Remove the custom ad blocker rule(s) and the page will load as expected.